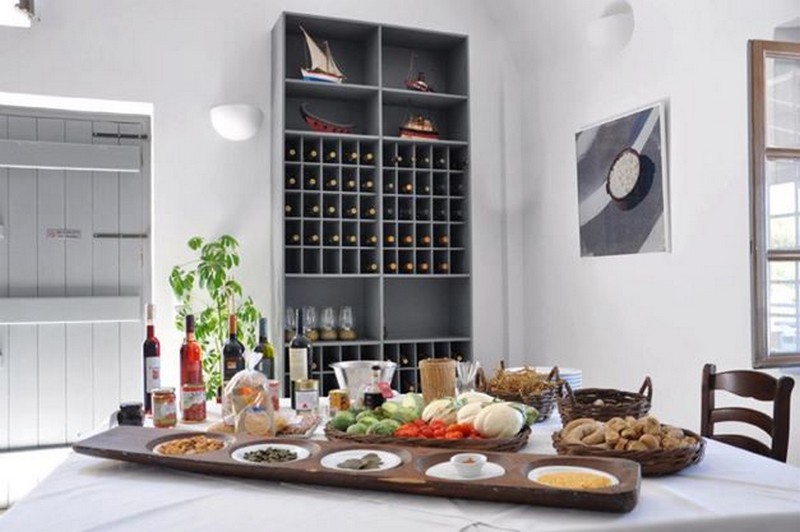 'Selene' restaurant was established in 1986 in Fira, Santorini by Yiorgos and Evelyn Hatziyannakis. Our aim was from the very start, to show and promote the local products along with the local cuisine hoping that this will enable us to transmit to our guests a taste of the island's culture. The success that we have had all those years not only within Greece but also worldwide, has encouraged us to continue with cooking lessons, catering for weddings and conferences and various gastronomical events. 
Since 2010 'Selene' restaurant has moved location from Fira to Pyrgos. Pyrgos is one of the most beautiful and well-preserved villages of Santorini built around a medieval castle located in one of the highest points of the island offering magnificent views. What is mostly important for us however is that Pyrgos village, and the restaurant's location especially, lies next to the famous vineyards and the valuable farmland of Santorini.
The new location and the experience gained from all these years urged us to suggest Selene, Pyrgos and Santorini as unique gastronomic destinations. We separated Selene in two: Selene Restaurant continues its modernist approach on Greek cuisine andSelene Meze & Wine which operates as a taverna, a simpler all-day approach with mostly traditional dishes and exclusively Santorini wines from all the island's producers. We have recently incorporated a delicatessen shop where visitors can find premium Greek products from Selene's Selection and last but not least the Selene Experience choices of cooking/tasting  courses have been expanded in association with the Cultural Village Santorini of the past so that our guests will have the chance to appreciate in depth the  gastronomic culture of the island.
In 2015 Selene celebrates its 30th anniversary! Our aim is to keep working with the local products and cuisine in order to create new, interesting and tasteful dishes and ideas. We want to thank you all for supporting us all this time and we are waiting for you in Pyrgos.